Decorating for an Ultra Girly and Bold Living Room
The neutral, earthy interiors that are everywhere right now are beautiful, but I will always be a bold color maximalist at heart. When you step into a room filled with bright red hearts and pink flamingos, you can't help but smile, and we all want to have happy homes. In honor of Valentine's Day, I'll show you the best red, pink, and black decor to get a fun and feminine living room for an affordable price. 
Fashion can be a great source of inspiration for interior design, and vice versa. When I think of bold, feminine design, I think of one of my favorite OG fashion bloggers, Blair Eadie. She effortlessly pairs unexpected brights to create an unforgettable combination. Over the years I've seen some amazing outfits, but my favorites are always her red and pink ensembles, the below set being the inspiration behind my newest Galentine's Day Mood Boards. Her own home is equally inspiring, as seen in the image above.
Elements of a girly and BolD Living Room
Maximalist Pink Wallpaper:
Set the stage with a fun and colorful wallpaper that will instantly transform your living room. A bold paint color can achieve an impact as well, but it's hard to beat a patterned wallpaper under a lively gallery wall. Pink flamingos are the ultimate girly statement and bring a whimsical, playful energy to the space. For the renters, choose the removable option for easy removal when your lease is over. See my top selections for girly pink wallpaper below: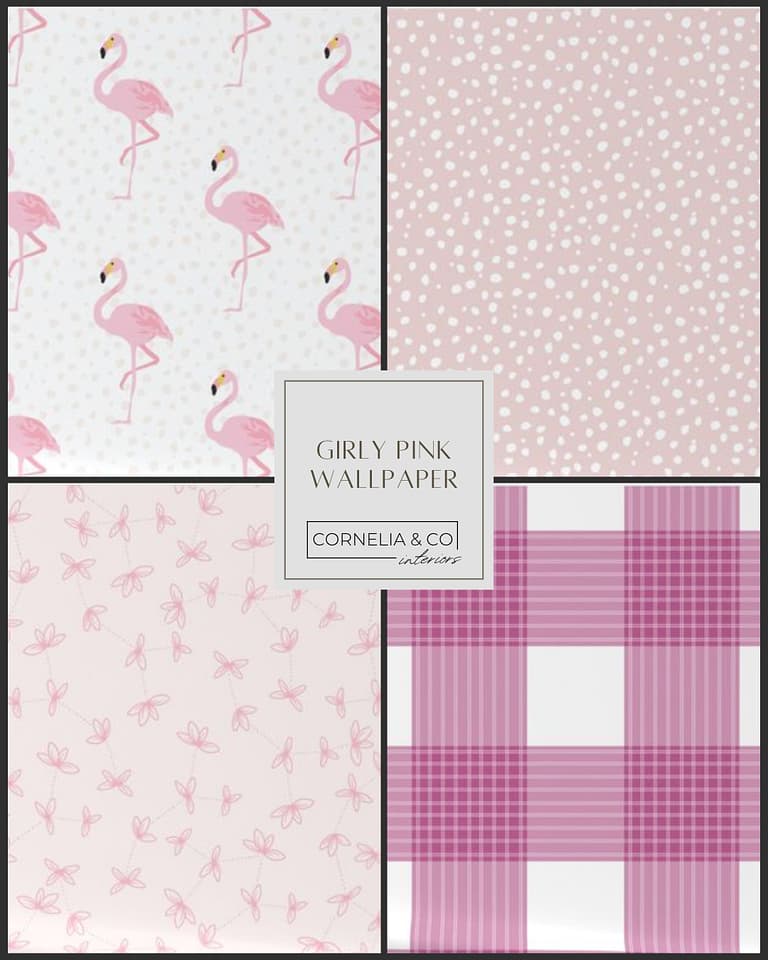 Nothing says feminine quite like a pink couch! It's not for everyone, but pink doesn't have to be a scary choice, especially in a soft pink that acts more like a neutral. Whatever shade you choose, a pink couch creates an instant chic vibe. My affordable picks below are perfect for your first apartment when you can make your home as girly as you want! 
As an Amazon Associate I earn from qualifying purchases*
Black and White Pattern Area Rug:
A geometric black and white area rug is the perfect way to add some pizazz without stealing the spotlight from all the other elements in the room. Something with more of a cream and charcoal color palette won't be too harsh on the eyes and will complement the pink colors beautifully. 
Eclectic and Quirky Gallery Wall:
I've never met a gallery wall I didn't like, and when it's a mix of cute prints and signs, I love it even more! Keeping the color variation to a minimum by using pink, red, and black, makes it possible to let loose with the variety of content. Mix paintings, photographs, and unexpected elements like a neon sign so the wall feels cool and curated.  
Grounding Black Accent Furniture:
With all the patterns and bright color going on, you need some solid black pieces to ground the space. It gives the eye a bit of a rest and allows the bold art and decor items to pop. For this living room, the anchoring furniture items are the simple black and glass coffee table and black wood end tables. Like the perfect black winged eyeliner, incorporating black into your design will make the room look pulled together with a polished look. 
*FYI: This post may contain affiliate links, meaning that at no additional cost to you, I will receive a commission if you click through and make a purchase. See the Disclaimer page for additional information.