New Year's Resolutions Through Design: Sleep Better
Getting more quality sleep is consistently on the top of every New Year's resolutions list each year, so I figured it was the perfect place to start my New Year's Resolutions Through Design series. If you're one of the lucky ones that has no trouble sleeping, let me just say I'm very jealous, and maybe you don't need to change anything about your bedroom. But for the rest of us, keep reading for some tips on how to design a space that sets you up for the best sleep possible!
Embrace a soothing color palette using paint, wallpaper, and art
According to sleep expert Dr. Michael Breus, soft blues and greens have a calming effect, while whites and beiges can help limit distractions. Colors to avoid in large amounts include red, purple, dark brown, black, and gray. Paint is the cheapest way to make a big change, but if you have the budget and the patience, wallpaper can add a cozy texture and more visual interest. Make sure you don't go too crazy with pattern or contrast if you want a restful space though!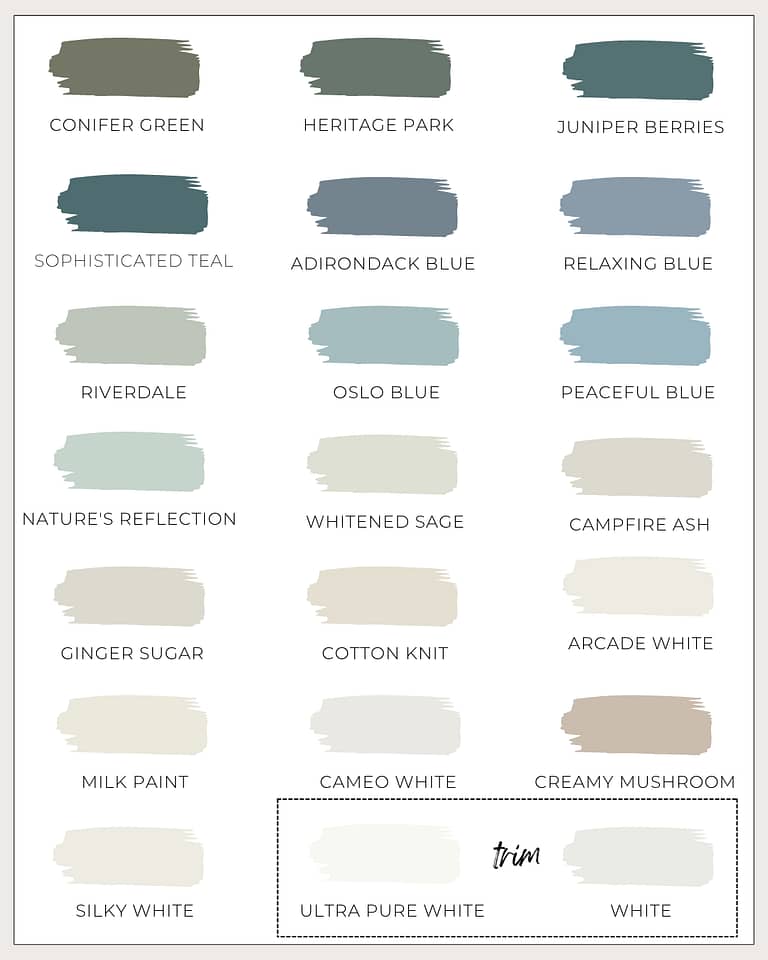 See these colors in your space at Behr.com
These soothing colors by Behr are ideal for a relaxing atmosphere, so paint an accent wall behind your bed, or make a bigger impact by painting the whole room, ceiling included. A darker shade will lean moody and dramatic but still zen, especially when the ceiling is included. A lighter shade is perfect for anyone looking for a simple, distraction free backdrop for a restful sleep. 
Wallpaper is a great way to add subtle visual interest and warmth without overpowering a space. There are so many options in every style, and even a plain color grasscloth can elevate a room beyond what paint can do. And don't forget to pick patterns and colors that you actually like! If you absolutely hate blue, that beachy blue wallpaper is going to create more stress instead of reducing it. 
For all the renters out there, you might get your landlord to okay a color change, or you may need to paint it back to the original color when you move out. If you don't have much texture on your walls, removable peel and stick wallpaper is another option. If both sound too daunting, find soothing artwork, or make some DIY large scale art (this YouTube video from Liz Fenwick DIY has some great ideas). 
A drapery wall is another great non-permanent solution for adding a cozy statement behind your bed. Check out an amazing example of this in the below design by Orlando Soria 
Create a cozy vibe with textiles
Bedding: Invest in quality sheets and bedding that pull double duty by keeping you warm and cozy while also regulating your temperature. The key to a great sleep is having a cool room with bedding that keeps you comfortable without overheating. Silk pillowcases also have an added benefit of leaving your skin and hair smooth and crease-free. . 
Curtains: An uninterrupted sleep also requires a dark, quiet space with limited outside noise. That can be tough to achieve, especially in a busy city with constant honking, sirens, and garbage trucks startling you awake. Hanging light/noise blocking curtains in a velvet or linen look fabric is a great way to keep your room dark, quiet, and warm, while still looking chic. 
Rugs: A thick, fuzzy rug with soundproof rug pad underneath is another great way to absorb unwanted noise, and it will feel cozy on bare feet.  Basically anything that makes your room inviting and calm is a good idea to help get you to sleep faster. 
Bedside lamps are the easiest way to create mood lighting, but anything that creates that soft glow before bed will do the trick. Hardwired or plug in sconces are another option for alternate lighting, and frees up the nightstands for candles or books. Add dimmable bulbs to a dimmable light fixture for the ability to transition from day to night easily. 
Creating your own little sanctuary doesn't have to be complicated, just focus on items that make you feel relaxed and comfortable. And see the mood boards below for some extra inspiration. Check back later this week for part 2 of the New Year's Resolutions Through Design Series where I'll give design tips for everyone's favorite goal – to workout more. In the meantime, I wish everyone a very restful New Year!
FYI: This post may contain affiliate links, meaning that at no additional cost to you, I will receive a commission if you click through and make a purchase.