New Year's Resolutions Through Design: Workout More
We're back for part 2 of the New Year's Resolutions Through Design Series! If you missed part 1, check it out here. When you hear new year's resolution, what's the first thing you think of? I bet it's "to get in shape" or to "workout more". Gyms are packed at the beginning of the year for a reason, but you don't need to brave a crowded gym to get fitter in the new year. Having a workout space at home can keep you motivated, save you time, and make fitness a part of your life. And it can fit in seamlessly with your current decor without screaming I'M A HOME GYM.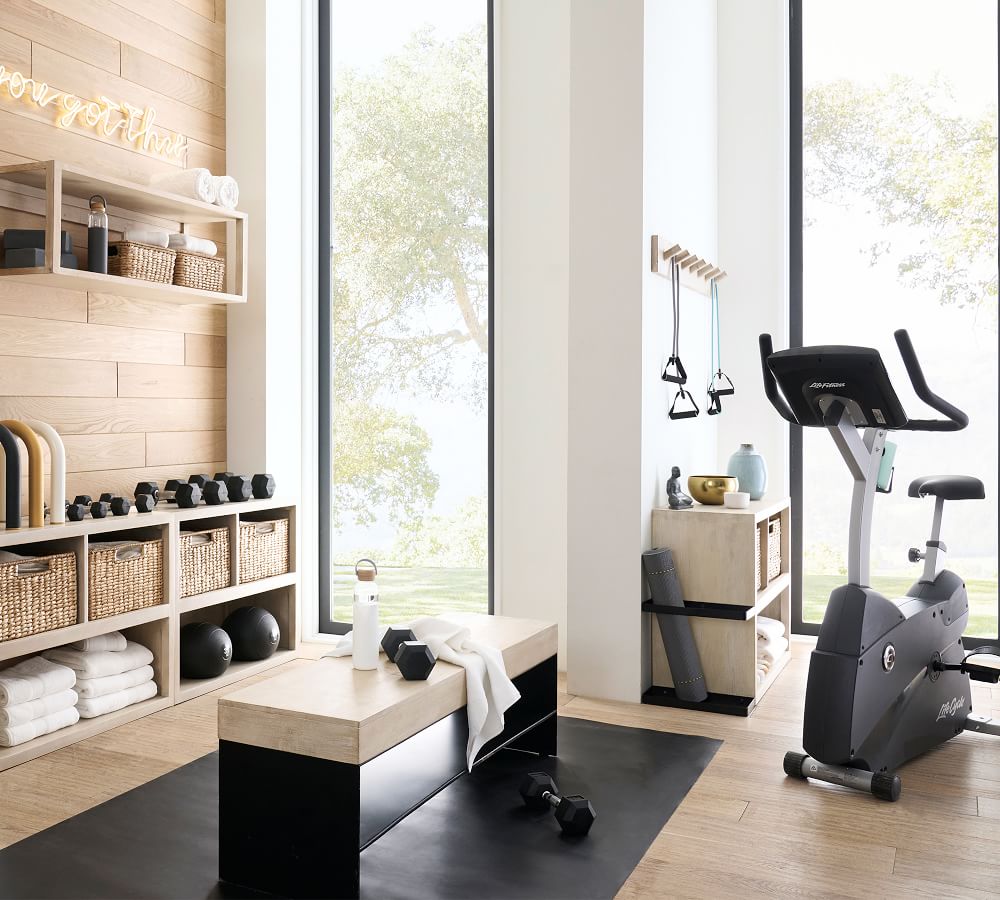 Image Credit: Pottery Barn
Create a Dedicated Workout Zone
Whether it's a yoga mat in your living room or a full on home gym, creating a dedicated space for working out is key to keeping your motivation up long after January is over. Depending on the size of your house and workout style, creating a nook in an unused part of your living room or bedroom could be the perfect solution. Turn an unused closet into gym storage for even more space savings. Look for workout equipment that can be tucked away under a bed or in the corner of a room. A garage can be the perfect home gym with the addition of AC and heat (depending on your climate). Even the backyard can be turned into a yoga studio with a shade sail or pergola to keep you out of the sun. I currently have a spin bike on my balcony with a cover to protect it from the elements, so think outside the box! 
Elements of a beautiful yet functional workout space
The key to having a workout area coexist with the rest of your home is proper storage for all the mats, weights, and other fitness items. There's nothing worse than tripping on a foam roller and stubbing your toe on a rogue hand weight in the middle of your floor. Cube storage is a really easy and cost effective way to contain all the gear you may need. Fabric bins can hold jump ropes, bands, a pilates ball, and towels. A small bookcase in a hall closet can also store dumbbells or whatever else you need.
With limited space, wall storage is essential. This DIY pegboard by Pine & Poplar is a fun project to tackle that will take advantage of the unused vertical space. 
Image Credit: Pine & Poplar Blog
Carving out a small nook is another way to keep as much floor space as possible, as seen in this design by @PrettyLittleSocial
Don't make the mistake of thinking your workout area should be a boring "distraction free" space. Just like any other spot in your house, it should be a beautiful reflection of your personality and a place that makes you feel inspired. If anything, you can go even bolder for a fitness zone than you might in the rest of your house.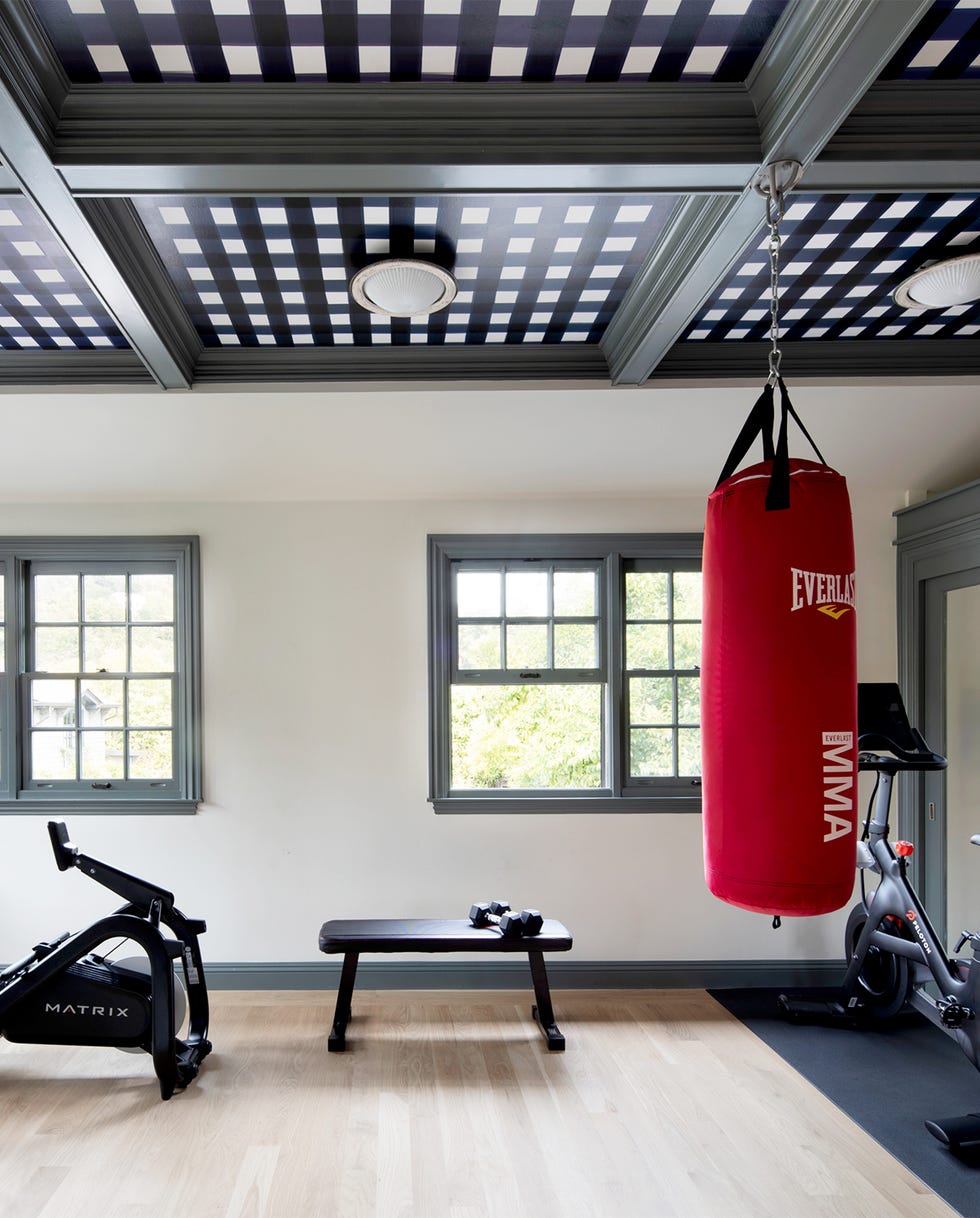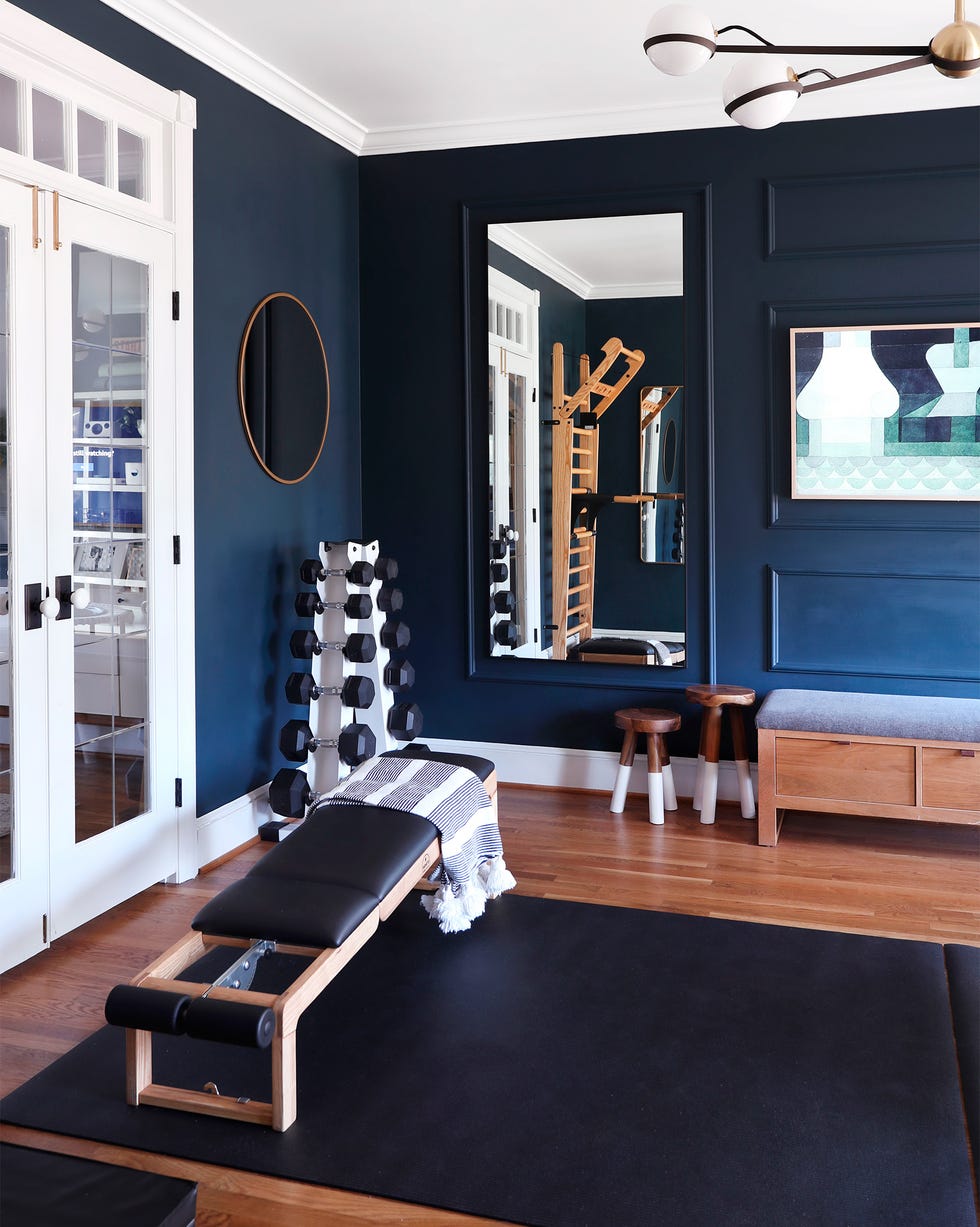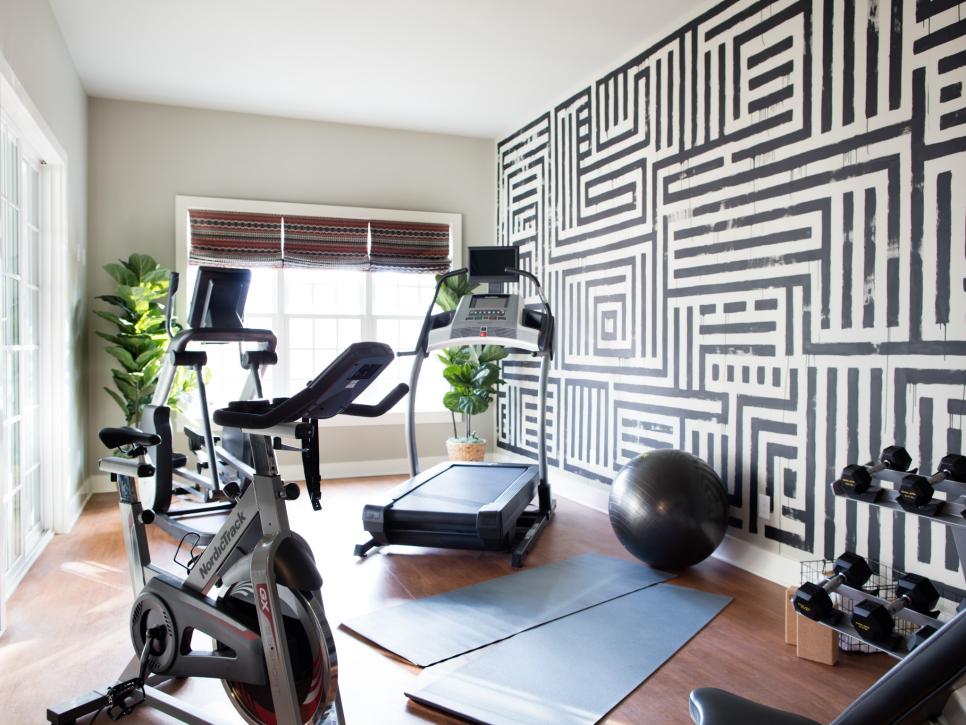 Choose decor items that are also functional, like a Frame TV that can easily switch between a youtube workout and your favorite painting. There are unlimited digital art displays to choose from on Etsy, a few of my favorites are below:
Have you heard mirrored walls are making a comeback?? I'm not sure I can get on board with that for most places in my home, but a workout room would be a great spot to try it out. 
Use a leaning floor mirror for a chic and movable option. For a modern minimalist space, choose a simple black metal or brass floor mirror. For a warmer look, choose something with a thick wood frame.  
My favorite part of putting together a home gym is picking weights and equipment that are just as pretty as they are practical. I never want it to feel like I'm at a 24 hour fitness (they always seem to be stuck in the 1980s). Mats and weights in pretty pastels somehow make working out way more enjoyable. I rounded up all my aesthetic picks to hopefully inspire you to reach your workout goals this year too!  
Most of us don't have the huge home gyms we see on Pinterest, but that doesn't mean we can't carve out a little space to nurture our physical and mental health. Use the below mood board to inspire your own workout room or nook, and hopefully it will be easier to stick to that resolution all. year! 
FYI: This post may contain affiliate links, meaning that at no additional cost to you, I will receive a commission if you click through and make a purchase.